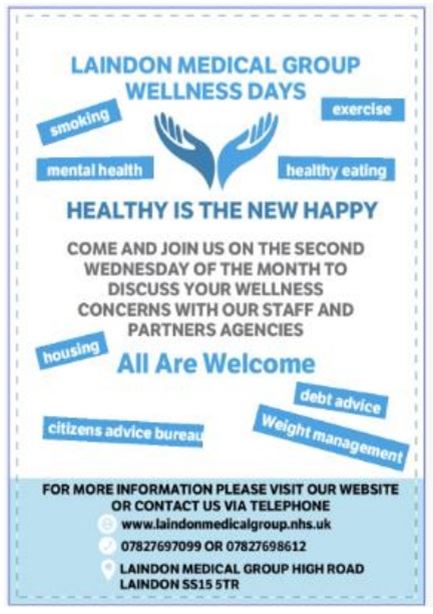 Laindon Medical Group Wellness Days
Welcome to Laindon Medical Group
The doctors work with Practice Nurses, District Nurses, Receptionists, Health Visitors and Chiropodists as a Primary Health Care Team to provide a personal service and high quality care for around 18,000 people in Laindon, Langdon Hills, and the surrounding areas.
Patient Car Park
Please access via Danacre. Disabled spaces are available. Please note there is a 3 hour limit monitored by a camera.
A pharmacy and an optician are also situated by the car park. The car park spaces are limited due to building work, please give sufficient time to get to your appointment.
Aims and Objectives
Aims and Objectives
Our aims and objectives are:
To provide the best quality medical care to our patients
To ensure that patients have confidence in the service we provide
Be committed to our patients' needs
Act with integrity and complete confidentiality
Be courteous, approachable, friendly and accommodating
Ensure safe and effective services and environment
To be innovative and forward thinking
To work collaboratively with outside agencies
To maintain our motivated and skilled work teams
Through monitoring and auditing, continue to improve our healthcare services
Maintain high quality of care through continuous learning and training
To guide our employees in accordance with diversity and equality
To ensure effective and robust information governance systems
Treat all patients and staff with dignity, respect and honesty
Our purpose is to ensure that patients registered with Laindon Medical Group are provided with high quality health care, whilst maintaining a friendly and safe practice.
NHS Zero Tolerance
Laindon Medical Group strongly supports the NHS Policy on Zero Tolerance attitude towards staff. Anyone attending the surgery who abuses the clinicians, staff or other patients, be it verbally, physically or in any threatening manner whatsoever, will risk removal from the practice list. In extreme cases we may summon the police to remove offenders from the practice premises.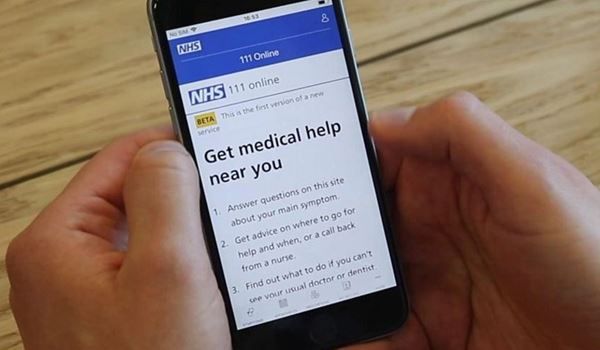 NHS App
Order medication and set up a nominated Pharmacy from the comfort of your home
Book appointments 24/7
Book and cancel appointments for you and your family and receive medication reminders with NHS app.
The NHS App will use NHS Login, allowing most patients to verify their own identity in the App, avoiding the need to visit the practice.
Download it here today from the Apple App Store or Google Play.
Fair processing notice - Mid and South Essex Integrated Care System (ics.nhs.uk)